Learn Cloud Fundamentals from AWS Experts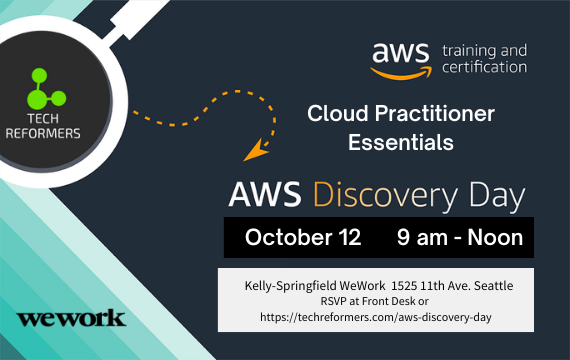 An AWS Discovery Day, hosted by Tech Reformers, an AWS Authorized Training Provider (ATP), provides an introduction to cloud concepts that include security, compute, storage, database, and modern IT strategy. Tech Reformers offers AWS-authored training to help you and your organization develop the AWS knowledge and skills you need to achieve your business goals. In this introductory event, expert AWS Instructors will help you learn what's possible in the cloud and how to achieve it with AWS. These events offer a sample of the type of content available in the AWS instructor-led classroom training that we can offer your organization. If your organization is cloud curious, join this upcoming AWS Discovery Day event by Tech Reformers.
When: Thursday, October 12, 9:00 am – Noon (lunch and beverages provided)
Where: WeWork Kelly-Springfield, 1525 11th Avenue, Seattle, WA
Register Now to reserve your spot.