What does it do?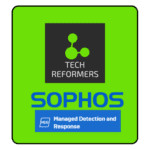 For our clients, Tech Reformers offers Sophos Managed Detection and Response (MDR). Providing 24/7 threat hunting, detection, and response capabilities, it's delivered by an expert team as a fully-managed service. Few organizations have all the right tools, people, and processes in-house to manage their security programs around the clock effectively. Let alone while proactively defending against new and emerging threats. It goes beyond simply notifying you of attacks or suspicious behaviors. The Sophos MDR team takes targeted actions on your behalf to neutralize even the most sophisticated and complex threats, including the latest ransomware attack variants.
However, other managed detection and response (MDR) services simply notify you of attacks or suspicious events. With Sophos MDR, you are backed by an elite team of threat hunters and response experts who take targeted actions on your behalf to neutralize even the most sophisticated threats.
Built on our Intercept X Advanced with XDR technology, Sophos MDR fuses machine learning technology and expert analysis for improved threat hunting and detection, deeper investigation of alerts, and targeted actions to eliminate threats with speed and precision. Therefore, this fusion of Sophos' consistently top-rated endpoint protection and intelligent XDR with a world-class team of security experts results in what we call "machine-accelerated human response."
With Sophos MDR from Tech Reformers, you Authorize Sophos to handle containment and neutralization actions and will inform you of the action(s) taken.
Tech Reformers will work with your team to deploy Central Intercept X Endpoint Advanced with XDR to your endpoints to enable the service.