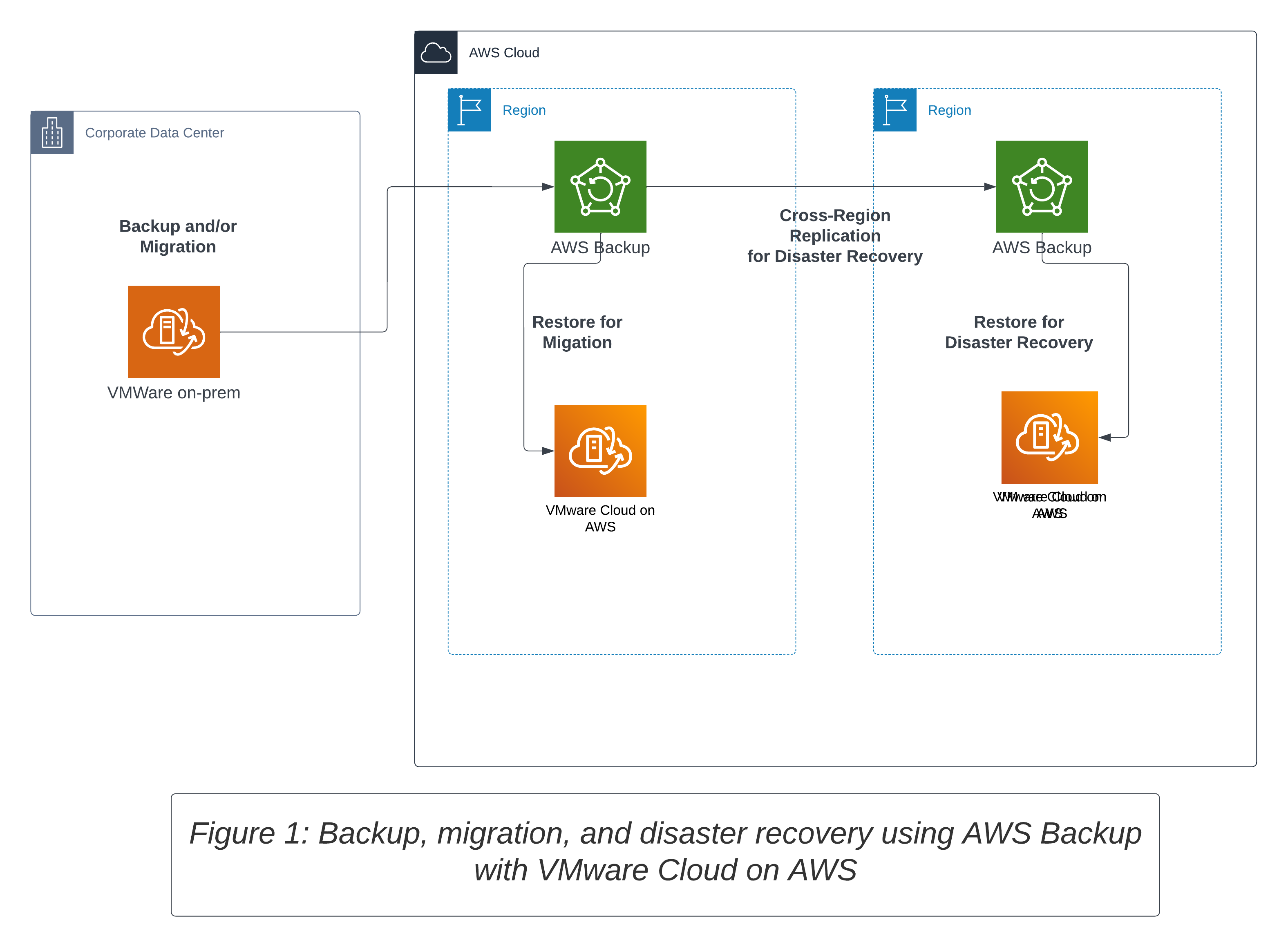 When customers running VMware on-prem consider the cloud for backup or even migration, they sometimes want to stay on their current hypervisor. Organizations stay with VMware because of their skillset and familiarity or they need to move quickly with what they have. They have a challenge. They need to find a solution that doesn't require changing their whole system. At the same time, they need to keep their applications and data safe. VMware Cloud on AWS is the answer. It provides an easy way to move from on-premises environments to the cloud. This can be done just for backup. Or it can be a full migration.
Overview: Backup and Restore with VMware
AWS Backup, a fully managed backup service, easily centralizes and automates data backup across AWS services in the cloud and on-premises environments. When it comes to backing up on-premises VMware workloads, AWS Backup integrates seamlessly with VMware Cloud on AWS. Customers can back up their on-premises workloads to the cloud with AWS Backup and then restore the backups to VMware Cloud on AWS. This enables a streamlined migration process that's secure, efficient, and doesn't require additional operational complexity.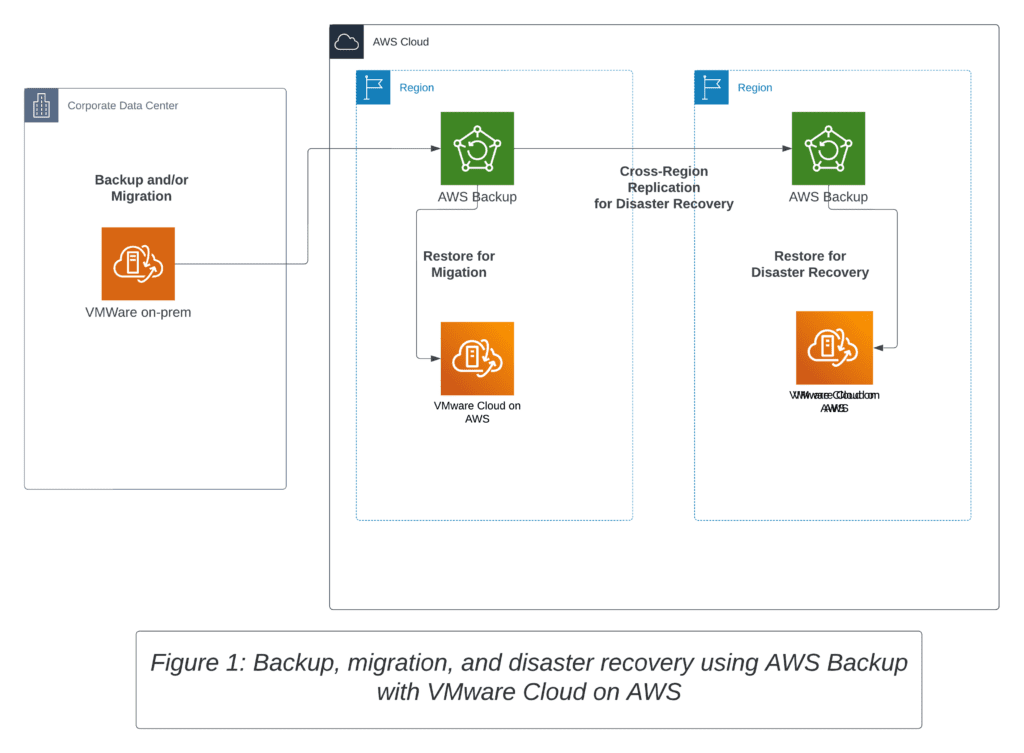 VMware Disaster Recovery
When it comes to disaster recovery, VMware Cloud on AWS, in conjunction with AWS Backup, provides a robust solution. Customers with strict Recovery Point Objective (RPO) and Recovery Time Objective (RTO) requirements have good options. They can use VMware Cloud Disaster Recovery and VMware Site Recovery. These solutions will meet their needs for keeping data safe and recovering it quickly. However, AWS Backup offers a simpler approach for smaller migration or more flexible disaster recovery requirements.
In the event of a regional disaster, customers can leverage the cross-Region copy capability of AWS Backup to copy the backups to a different AWS Region. This ensures that customers can restore their backups to VMware Cloud on AWS in another region, thereby ensuring business continuity.
Migration
Using VMware Cloud on AWS for migration has significant benefits. It lets customers move their on-premises VMware workloads to the AWS cloud. This process helps scale their data protection solution in a cost-effective way. With AWS Backup, customers can set the backup frequency based on their Recovery Point Objective (RPO) requirement in the backup plan. This level of customization ensures that customers only pay for what they need, thereby keeping costs in check.
Cost Considerations:
When considering a migration or disaster recovery solution, it's important to consider the associated costs. AWS Backup and VMware Cloud on AWS provide cost-effective solutions that provide flexibility in storage and restore options. Implementing lifecycle rules in AWS Backup can help customers maximize the benefits of lower-cost storage options, thereby further reducing costs.
Consider using the AWS Backup lifecycle feature to automatically transition your recovery points from a warm storage tier to lower-cost cold storage for archival use cases.
Conclusion
For organizations running VMware workloads on premises, the combination of AWS Backup and VMware Cloud on AWS offers a comprehensive solution for backup, migration, and disaster recovery. This solution not only ensures that customer data is protected and secure but also provides a cost-effective and efficient way to migrate to the cloud. For details for implementation, read the prescriptive guidance from AWS. Using AWS Backup and VMware Cloud on AWS helps customers relax, knowing their important business applications and data are safe in the cloud.